So far, I've figured out how to use the GameSalad coding scheme. It's pretty interesting and very similar to graphic programming languages like Scratch. Speaking of which, I'm thinking about teaching computer science classes in the future and starting my students off with Scratch because of its friendly learning curve...

Back to this project: I designed a few basic assets and developed some code to get the basic click-and-drag mechanics working. The idea is for the player to click (or touch, depending on whether the player is using a computer or a mobile device) and drag puzzle pieces into the squares provided. I figured out how to get the pieces to snap into place, but there are some glitches. Sometimes the pieces swap with each other, a problem I have yet to fix. More on that in my next post.
Powered by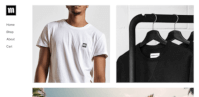 Create your own unique website with customizable templates.